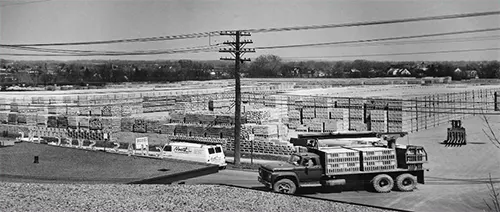 Since the early 1900s, Chas. Svec, Inc. has provided consistent commitment and competence to the concrete masonry business. Our company has been around for nearly a century, making us an established leader in the field. Our company is well-known for its vast product line, which includes various sizes, forms, colors, and finishes to satisfy the needs of multiple projects.

In addition to being readily available in most areas, concrete blocks are lauded for their high load-bearing capability, structural durability, low maintenance requirements, and long lifespan. Concrete blocks with these desirable characteristics are hard to come by, but at Chas. Svec, Inc., our dedication to quality exceeds industry norms as we work tirelessly to fulfill your needs.

We know the need for functionality and aesthetic freedom in today's building industry. Our concrete blocks are designed to be both very practical and aesthetically pleasing. We let architects and builders experiment with new styles while keeping safety, soundproofing, and affordability as top priorities in our products.

We go out of our way to ensure that our concrete masonry units have excellent insulation and water resistance since we know these features' importance. We understand that the key to establishing lasting relationships with our customers is providing a comprehensive solution that meets all their demands.

Quality and dependability are two of our most essential principles. Our products will always be of the most outstanding quality and conform to all applicable regulations. When meeting your individual wants and specifications, you can count on our hardworking staff to go above and beyond. We're here to help any construction professionals, whether you're an architect, builder, or contractor.

Chas. Svec, Inc. continues to set the standard in the concrete masonry sector by anticipating and meeting the needs of its customers. Exploring novel technologies, materials, and production methods is critical to our company's dedication to innovation and the success of our customers. Our commitment to technological innovation ensures you will always receive the most innovative and effective concrete masonry services.

We appreciate your interest in Chas. Svec, Inc. as a potential concrete masonry collaborator. We are excited to put our knowledge, quality goods, and friendly service to work for you.
We Provide Services to the Following Cities, Towns and Surrounding Regions of OH: