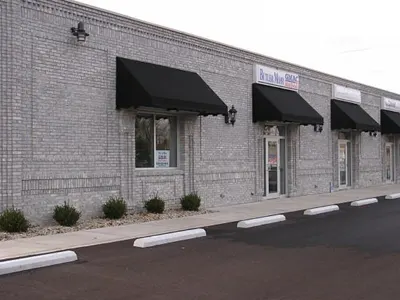 At Chas. Svec, Inc., we take immense pride in offering a comprehensive range of top-quality concrete masonry products that cater to various construction needs. Our diverse product line showcases our commitment to excellence and our dedication to meeting the ever-evolving demands of the industry. From our Architectural Split Series to our Architectural Smooth Brick Series, we provide concrete blocks that seamlessly blend aesthetics with functionality. The Splitface collection offers textured surfaces that add depth and visual appeal to any project, while our Bricklook series replicates the timeless charm of traditional brick. All our other products are engineered to meet the highest industry standards, ensuring exceptional load-bearing capacity, structural durability, and long-lasting performance. With an unwavering focus on quality, we strive to exceed customer expectations and provide reliable solutions that stand the test of time. You can trust that our products are designed to meet architects, builders, and homeowners' diverse needs. Here is a look at the high-quality products we offer.


Architectural Split Face Brick
We offer the finest selection of Architectural Split Face Brick, ensuring that we provide the best products and the most comprehensive range to our valued customers. Our Architectural Split Face Brick collection is carefully crafted to meet the highest standards of quality and aesthetics. We offer various Architectural Split Face Brick in various blends, allowing you to create the most unique and eye-catching exteriors for your home or commercial structure. Our brick products feature striking textures and patterns that add depth and character to any architectural design. Our Architectural Split Face Brick lets you express your creativity and bring your vision to life. Whether you prefer a modern and sleek look or a more rustic and traditional feel, our options ensure you can achieve the perfect aesthetic for your project. We understand that every project is unique, which is why we provide a wide array of Architectural Split Face Brick to suit different styles and design preferences.


Architectural Smooth Brik Series
Our company proudly presents our exquisite collection of Architectural Split Face Brick. Immerse yourself in a world of possibilities as we offer the finest selection, ensuring our valued customers receive the best products and the broadest range available. Our Architectural Split Face Brick is meticulously crafted to meet the highest standards of quality and aesthetics. Discover various options in various blends, allowing you to unleash your creativity and create captivating exteriors for your residential or commercial structure. Each brick boasts striking textures and patterns that infuse depth and character into any architectural design. With an extensive array of options, you can achieve the perfect aesthetic that aligns with your project's unique personality and style. We cater to diverse tastes and design preferences. Our collection offers a wide variety of Architectural Split Face Brick. Embrace the boundless possibilities and elevate your project with our premium selection as we strive to provide unparalleled quality and a fantastic palette of choices.


Splitface
Experience the excellence of our high-quality split units at Chas. Svec, Inc., Our commitment to superior craftsmanship is reflected in our products that meet and exceed ASTM standards. Available in sizes ranging from 4" to 12", we offer full-height and half-height through-the-wall and veneer units to suit your specific needs. The attention to detail in both functionality and aesthetics sets our split units apart. Our units are manufactured with integral waterproofing, ensuring durability and protection against moisture. Choose from various colors available in our mixed design, providing a vibrant and long-lasting finish that adds beauty to your projects. For those seeking cost-effective options, we also offer non-waterproof gray split units perfect for painting or sealing. These units provide a versatile canvas for customization, allowing you to tailor the appearance to your desired specifications. Whether you require standard sizes or customized solutions, our split units are engineered to meet the highest standards and exceed your expectations.


Briklook
Introducing Briklook by Chas. Svec, Inc. - our remarkable half-high concrete block designed to emulate the look of face brick. These innovative units are integrally blended to create a stunning brick-like appearance, combining concrete's strength and durability with traditional brick's aesthetic appeal, at Chas. Svec, Inc. offers a range of unique color blends in 4", 8", and 12" units, providing versatility and flexibility for your construction projects. Whether you desire a timeless, classic brick look or a more contemporary design, our Briklook units deliver the desired visual impact. In addition to their aesthetic appeal, Briklook units meet the stringent requirements of modern building codes. By strategically placing rebar, grout, or insulation in the hollow cores, you can easily achieve the necessary structural energy codes, ensuring a safe and efficient construction process. With Briklook, you no longer must compromise between style and functionality. Experience the perfect combination of beauty and strength as Chas. Svec, Inc. revolutionizes the concrete masonry industry with our exceptional Briklook units.


Retaining Walls
We carry various premium retaining wall blocks tailored to fit your requirements. Our retaining wall blocks are manufactured to last and perform well and look great. Because we highly value personalization, we offer various color options. Choose the ideal style for retaining walls from our wide variety of alternatives, including earthy tones that mix well with the natural surroundings and brilliant colors that make a statement. Our retaining wall bricks are designed to protect against soil erosion and safeguard your outdoor areas. They provide enduring performance and reassurance because of their high standard of quality. Our selection of high-quality retaining wall blocks is the perfect answer for landscaping and building projects, whether you're a do-it-yourselfer or a professional. Trust us to deliver exceptional products that enhance the functionality and aesthetics of your outdoor spaces.


Pavers
Experience the best quality and design with our 2x8x16 Solid pavers at Chas. Svec, Inc. We take pride in offering an exceptional selection of pavers perfect for enhancing landscapes and yards. Our 2x8x16 Solid pavers are available in various colors, including Buff, Charcoal, Red, Rust, Antique Brown, Antique Red, Canyon Buff, and Evening Shadow. These vibrant color options provide endless possibilities to create stunning and eye-catching outdoor spaces. Our pavers are Designed to withstand the test of time, crafted with the utmost precision and attention to detail. They are ideal for various applications, including walkways, patios, and driveways. With solid construction, these pavers offer durability and reliability for residential and commercial projects. Whether you're looking to create a classic, contemporary, or rustic aesthetic, our range of colors ensures you can achieve your outdoor space's desired look. Elevate your landscape design with our exceptional 2x8x16 Solid pavers and transform your outdoor areas into inviting and beautiful spaces.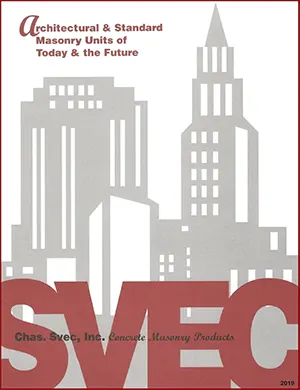 Chas. Svec, Inc. Concrete Masonry Products
We Provide Services to the Following Cities, Towns and Surrounding Regions of OH: